In Calabria, in Cetraro, A DIP IN THE SEA MORE BLUE ...
In Cetraro (CS), Casa La Costa is a residence of only seven apartments directly on the sea (m. 30), ideal for a stay in direct contact with the sea.
On the Tyrrhenian coast in Lampezia resort, just 30 meters from the beach in Cetraro, Casa La Costa offers beach lovers the opportunity to taste the scent directly.

Casa La Costa "... holidays in Calabria ..."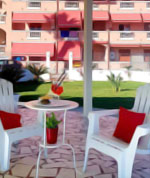 A tailor-made holiday for relaxing and having fun with friends or family. Seven lovely apartments in a beautiful landscape. On one side the characteristic port of Cetraro tourist port e one of the most beautiful seaside resorts of the high Tyrrhenian coast of Cosenza. On the other side, the cliffs overlooking the sea. On the waterfront that it winds up to the picturesque cave of Rizzo, under the ancient tower of lookout tower called Rienzi Tower, ice cream shop, pizzerias, tobacconist, newsstand and minimarket, to make your stay more enjoyable. The bus stop active in July and August, the children's park, the bathing establishments, and the embarkation for the Aeolian Islands, are easily reachable on foot.

Via Lampezia, 3 - 87022 Cetraro (CS) - Italy
email: infocasalacosta@gmail.com